Facebook Vs TikTok Ads: $40,000 Test
Facebook and TikTok are two of the most popular social media platforms in the world. They also make for the best places for businesses to advertise services and products because of their billions of users across the globe. Here, I'll compare Facebook with TikTok in terms of ads to show you which platform is more affordable.
Facebook Vs TikTok Ads: Real-Life Case Study
I will discuss the real-life example of one of our clients to help you understand how Facebook ads compare to TikTok Ads. I have been working with this client for more than a year now.
The client was spending about $2,000 a day when I joined forces but now the daily budget is around $15,000. Keep in mind that it's the total amount that I spend on multiple advertising platforms including Facebook, YouTube, and TikTok.
TikTok and Facebook Ad Examples
What I have learned through our experience is that TikTok is cheaper than Facebook. The CPM and CPC on TikTok are also cheaper and this platform is on the stage where Facebook used to be a couple of years back.
The following examples will explain why it's the right time to use TikTok to advertise your services and products.
One Day Ad Spending: TikTok

As the above image of our real-time campaign shows, we spent $1,467.60 in a single day and the CPA (Cost Per Action) was $104.83.
One Day Ad Spending: Facebook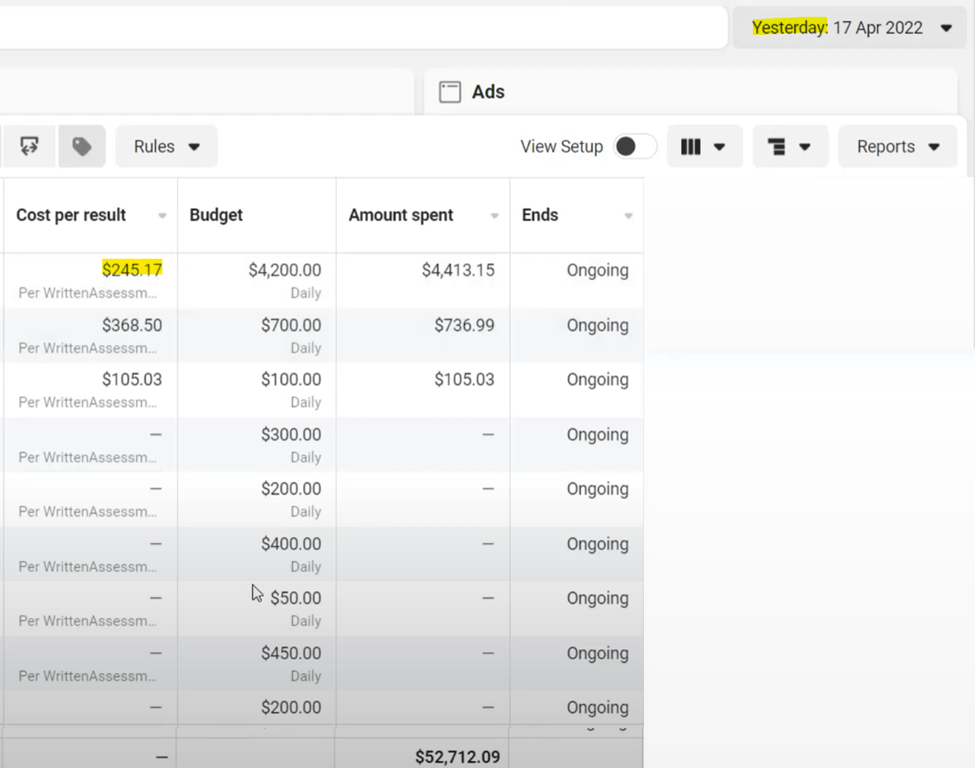 On the same day, we spent $5,255.14 on Facebook and the CPA was $245.17 as the image above shows. Comparison: The comparison of spending on the two platforms shows that Facebook is about 57 percent more expensive than TikTok.
Seven Days Ad Spending: TikTok

As you can see, the result of the last seven days shows that the CPA on TikTok is $166.62.
7 Days Ad Spending: Facebook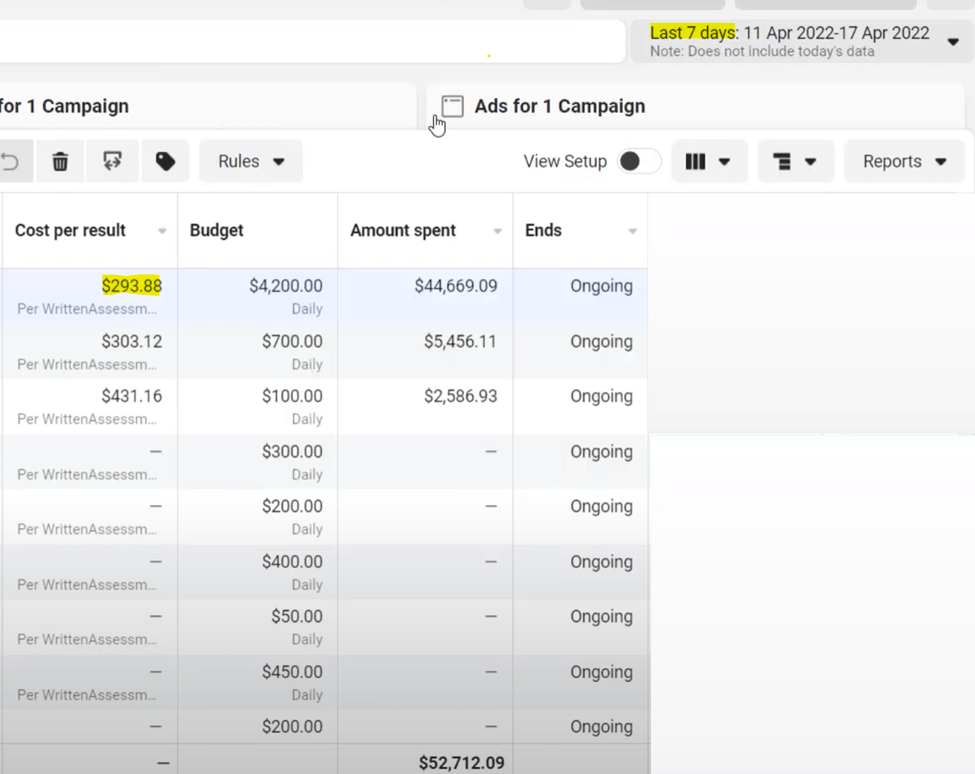 The results on Facebook during the same period of time show that we had to spend $293.88 as CPA.
Comparison: The Facebook CPA is 44 percent higher than the results that we received on TikTok during the same amount of time.
Facebook Vs TikTok Ads: Results
As you can clearly see, TikTok ads are way cheaper than what Facebook has to offer. I have only shared one example, but my collective experience shows that TikTok is at least 50 percent cheaper than Facebook. It's a very big difference that can save you a whole lot of money that you can spend to expand your business. It's especially true if you're running a small business or startup.
It's important to note that I was able to reduce the CAC of my client by 60 percent during the last year and scaled them from $2,000 to $15,000 a day. Initially, we were working on Facebook and YouTube, but now we have also started working on TikTok, just like all my other clients.
Although the total number of users on TikTok is lower than on Facebook, you need to spend less money to achieve the same tangible results. If you want to improve the reach and online presence of your business on any of these platforms through ads, my agency has got that covered.
It's a Facebook and Google Official partner agency that offers bespoke and personalized services depending on the unique needs of your business.

Additionally, I also have a dedicated rep on TikTok as well and my agency can get things done fast.

So, schedule a call with me to give your business what it actually deserves. We're so confident in our services that we'll give you your money back if you don't experience a boost in your sales.